The [LF] clan was created in the early days of v3 of COD5 community. We developed with much of the clan being friends before the clan opened, and decided to join together and create a clan with our in-game friends. The clan went great, managing to win the 1st ever COD5 Clan Tournament, beating DELTA in the finals. After the victory, the clan slowly decreased in population, and turned in-active, leaving no reason to continue. Therefore, the clan managers decided to shut it down.
After Stark decided to re-open the [LF] clan in 2011, the clan seemed to fail in the beginning. The administration of the clan wanted to make [LF] a SA-MP clan, and leave the COD5 base, but the idea failed quickly as many members left, wanting nothing to do with the idea. Therefore, turning in-active again, as school was starting for everyone, the clan shut down.
Now, we will stay in the COD5 base, and stay as just a COD5 server clan. We are hoping to dominate as once before with a fresh and clean start, with new owners and leaders than before. We schedule our re-opening on 6/7/2012, to re-develop our roster for COD5 players. Our joining will be strict, so be sure to conclude all your accurate information as needed.

[center]

[size=12pt][LF]prOdiGy/size]
[LF]VeD
[LF]prOpheCy
[LF]DemoN
[LF]TheClown
[LF]DriFteR
[LF]stark
[LF]Ron

[LF]Shahrier
-
-


[LF]Jakeyy
[LF]Omarr
-
-
-
-
[center]

[size=12pt]
[LF] v.s [CvN]
10-0
[LF] v.s [iX]
7-2
[LF] v.s [5p_]
9-0
[LF] v.s [aW]
9-0
[LF] v.s [GsU]
8-1
[LF] v.s [A$X]
9-0
[LF] v.s [SF]
3-0
[LF] v.s [UF]
3-0
[LF] v.s [UF]
2-0
[LF] v.s [BRF]
3-0
[LF] v.s [UF]
1-0
[LF] v.s [DT]
2-0
[LF] v.s [VOD]
2-1
[LF] v.s [BFH]
9-0
[LF] v.s [LoW]
2-0
[LF] v.s [GRE]
2-1
[LF] v.s [LoW]
2-0
[LF] v.s [USF]
2-0
[LF] v.s [SFA]
9-0
[LF] v.s [SFA]
3-0
[LF] v.s [LND]
3-0
[LF] v.s [AG]
9-0
[LF] v.s [FRS]
9-0
[LF] v.s [WOLF]
9-0
[LF] v.s [zR]
9-0
[LF] v.s [GRE]
3-0
[LF] v.s [aD]
9-0
[LF] v.s [AG]
9-0
[LF] v.s [TkC]
7-0
[LF] v.s [WoS]
9-0
[LF] v.s [MAD]
7-2
[LF] v.s [MG3]
5-4
[LF] v.s [HsC]
9-0
[LF] v.s [HF]
9-0
[LF] v.s [VEN]
6-3
[LF] v.s [Sam]
9-0
[LF] v.s [DT]
3-0
[LF] v.s [GLF]
3-0
[LF] v.s [SK]
3-0
[LF] v.s [GRE]
3-0
[LF] v.s [Cba]
6-3
[LF] v.s [W.U]
9-0
[LF] v.s [gtq]
8-1
[LF] v.s [Ms]
9-0
[LF] v.s [TED]
6-1
[LF] v.s [REC]
7-2
[LF] v.s [Up]
9-0
[LF] v.s [h4m]
9-0
Record: 49-0 Ratio: 49.00 Win Streak: +49
Blue = COD5 Clanwar
Official Clan-Wars List

[/center]
Our ranks are not based off your in-game rank or score. Our ranks are purely based on skill, and the skill of the one who has been accepted will determine his spot on the roster. Players will all start off as Private, unless they do not meet the required skills, but could be trained. Once the member starts off as private, he will have to earn his respect and show the administration of LF his true loyalty in order to be promoted and advanced to the higher ranks. With each rank becomes different authority rights than other ranks.
Old and Veteran [LF] members will join a spot directly on the roster without having to wait much time, since the administration knows whether they are loyal or not, and how they are skilled from prior and previous years playing with the [LF] clan.


You must apply on our forums
by registering and filling out the format provided on the forums. The applications have Rules that you must meet in order to apply, so please read them. If you do not read them, and a rule is not met, the application will be denied without any comment. If you post an application on this forum page, or in any of the pages in this topic, your application will be deleted, ignored, and/or not responded too. Any questions you have about applying to the clan, feel free to contact a leader, member, or the creator of this topic.
To view our forums, visit:
legendaryfighters.netii.net
.




Respect every higher ranked clan member.


Do not hack, cheat, or bug abuse.


Do not abuse bugs on the COD5 servers, any other servers will be allowed.


Do not flame any clan members, or players on ANY servers.


Do not insult or cry after a death, or any other situation.


You must respect a leader's decision, if not, actions will be taken against you.


You must speak English.


Do not spam or flood the forums, or chat.


Respect admins and other clans of COD5.


You must follow the COD5 Server rules, as they go towards our server as well!


The rules of the COD5 Forums apply to our forum as well. If we see you breaking one of these, you will be kicked.


You must be active. If you are inactive you will be kicked.


Provide Loyalty. If you are not loyal, leave the clan or don't even think about applying.


You must provide us accurate information so we can communicate.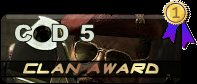 2010 Official Clan Tournament
2012 Clan Festival Tournament